Last summer, Paul Schwer, a green mechanical engineer, met with Portland, Ore., Mayor Ted Wheeler to talk about a subject dear to him—resilient structures for the earthquake-prone city. Those who don't know Schwer, president of PAE Consulting Engineers Inc., might question why a mechanical engineer would be asking a mayor for a city grant program to make new office buildings as quake-resistant as hospitals.
The answer involves Schwer's pet project—a 58,000-sq-ft speculative office building that started construction on April 1 in Portland's Skidmore/Old Town historic district. The five-story PAE Living Building, named after its prime tenant, is on course to be the first—and the largest—privately developed office building to be fully certified under the rigorous Living Building Challenge sustainability program of the International Living Future Institute (ILFI). And if it opens as expected in September 2021, it also will be one of very few developer buildings designed to survive a magnitude-7.5 quake with barely a scratch.
The concrete core, designed with hospital-level seismic resistance, is flanked by the L-shaped cistern, tweaked four times to avoid hitting foundations.
A resilient PAE building is attractive to Schwer because it would allow immediate reoccupancy after a quake, which would minimize business interruption. And as a prospective tenant, the mechanical-electrical-plumbing (MEP) engineer wanted seismic resilience. But both Schwer and PAE also had another reason—they have equity in the building. And to further the break with tradition, ZGF Architects and contractor Walsh Construction Co./OR also have stakes in the project.
Though drawn to the idea, Schwer says Wheeler turned down the request for grants for better seismic performance—mostly because the city coffers were dry.
Undaunted, Schwer pitched a wilder idea. After a major quake, PAE would vacate its three floors for six months so the city could move into the fully functional building and set up an emergency operations center. For the privilege, all the city had to do was pay the landlord an annual rent of $0.50 per sq ft. "I thought of this before COVID-19, when I didn't even know whether we could work remotely," says PAE's Schwer.
Again, Wheeler was intrigued but not swayed. Consequently, the PAE building team found another way to pay the $135,000 premium to stiffen the structure.
Ordinary office buildings are required to have an 8-in. seismic joint—an air space between the exterior wall and the property line so that swaying neighbors do not collide in a quake. But the stiffer PAE building would only sway as much as 4 in. at the roof. That allowed a 4-in. joint along the two affected sides of the building. That in turn facilitated a larger floor plate, which increased leasable space—enough to cover the premium.
Seismic resilience isn't the PAE building's only rare feature with a premium. The $40.2-million building also will contain the first commercial installation in the Americas of a system that turns nutrient-rich urine into agriculture-grade fertilizer. "We are taking the pee out of PAE," says Kathy Berg, a ZGF principal.
If successful, the nutrient recovery system could serve as a model for liquid waste treatment in terminals, sports facilities, amusement parks and more—relieving strain on wastewater treatments plants, says Harold Leverenz, co-founder, with Russell Adams, of Advanced Environmental Methods LLC (AEM), which developed the system, called AmmPhotek.
"We are decentralizing fertilizer production. How game-changing is this?" asks Pete Munoz, practice lead for Biohabitats, the PAE building's water infrastructure engineer and the person who suggested the system.
Read full article https://www.enr.com/articles/49574-portlands-pae-living-office-building-designed-for-hospital-level-quake-performance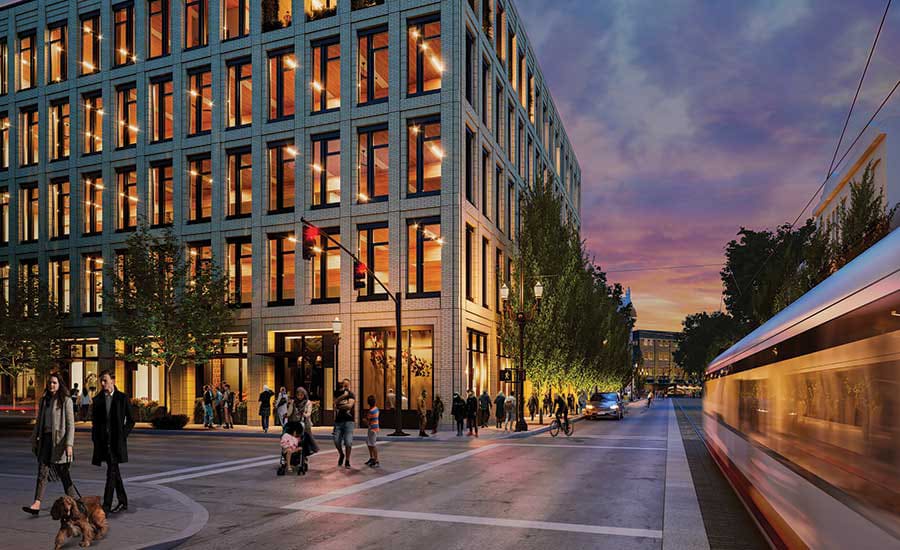 Grey water, NSF350, Rainwater, Water Recycling System, Water management system, water management company, Rainwater collection, Water system installation, Water system construction, Water utility company, Florida water system, potable water system, rainwater harvesting, rainwater harvesting system, rainwater recycling