On December 6th, the Los Angeles Chapter of the USGBC presented the Aqualoop Greywater Recycling Project for Eataly L.A with the Sustainable Innovation Award for Excellence in Water Conservation.
The honor is reserved for building projects which utilize sustainable strategies and demonstrate exemplary performance above and beyond the certification credit achievement in water management.
The award was accepted at the USBGC's 14th Annual Green Gala, by Ben Kracke of Studios Architecture, the President of Weil Aquatronics Jim Weil and representatives from Glumac and Argento-Graham.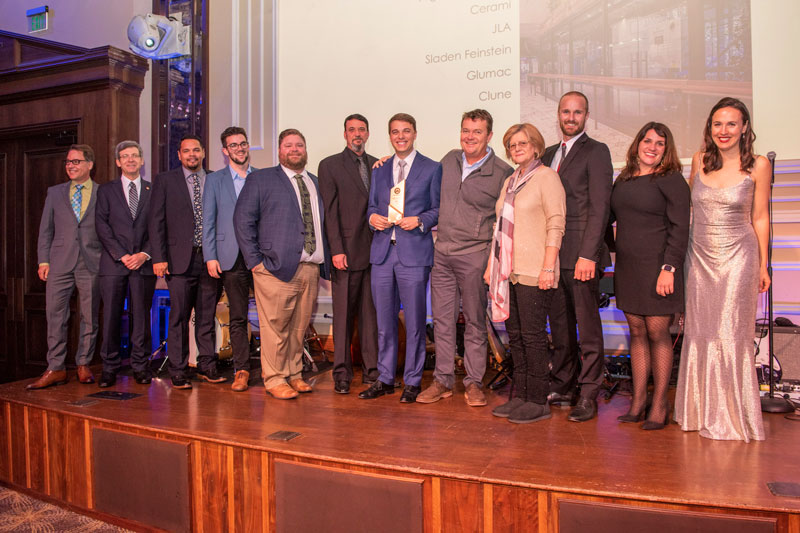 Eataly, a global mecca for Italian culinary cuisine, unveiled their latest location in Los Angeles earlier this year. While Eataly has locations all over the world (Milan, Dubai, Chicago, etc), the Los Angeles location in particular focuses on sustainability. It was this focus that led them to the decision of installing the Aqualoop greywater recycling system from Ecovie.
The Aqualoop System is prominently displayed on-site inside the Eataly premises behind a glass panel, enabling visitors to see it in action right next to the restaurant area and bar. The greywater system collects used water on-site and treats approximately 400,000 gallons of water per year which is then reusable. By reusing water in this way Eataly are able to meet 33% of the restaurant's toilet flushing water demand.
Peter Bahruth, the managing director and general superintendent of Clune's west region, commented on the system's intricacy and innovation saying,
"The greywater system was pretty complex. It's certainly the first one I've worked on in L.A. to this capacity. Typically, a greywater system is done inside a building. It's part of the building infrastructure. This is the first one I've worked on in the interior of a client's space."
Receiving an NSF 350 certification and LEED accreditation, this groundbreaking installation is the first greywater system permitted in the City of Los Angeles to use treated water for spray irrigation and toilet flushing.
"Our in-house greywater system reduces the amount of drinkable water we use by 33 percent by collecting all 'greywater,' or used water from the hand-washing in our restrooms and the condensation from our refrigeration unit," says Alex Saper, COO of Eataly.
For the awarded Eataly Project, Ecovie and Weil Aquatronics collaborated with Glumac Engineering, Clune Construction, Argento/Graham Sustainability Consultants and Studios Architecture while 'All Area Plumbing' did the installation which was assisted by 'Water Recycling Systems'.