Minimum Space Requirement
Compared to conventional gravel infiltration trenches with an attenuation volume of approximately 35%, DRAINMAX tunnel infiltration trenches a 100% attenuation volume.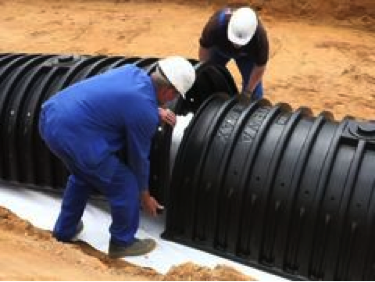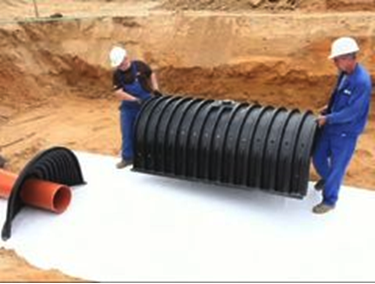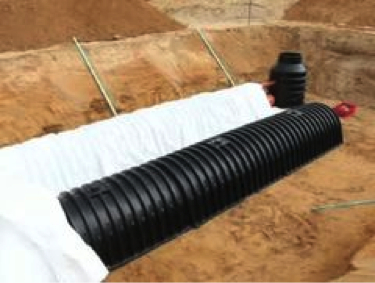 Fast and user-friendly installation and maintenance
Each tunnel section can be easily carried by two people since it weighs only 66 lb. and has a storage capacity of 1.6 cubic meters (420 gallons). The tunnels are connected by overlapping the edges. An area of 7,000 square feet can be installed in just 8 hours and involves only three different component types.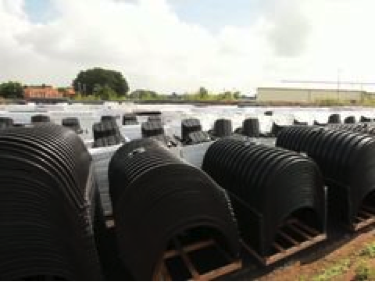 Plastic HDPE trench with loading capacity of a truck and DIBIt® accreditation
Finished tunnels are capable to withstand heavy truck loads. The long-term load capacity for the DRAINMAX system was verified for a minimum service life of 50 years and has the DIBIt® accreditation (German Institute for Building Technology).
Constant level of Efficient infiltration for the long run
In most conventional infiltration trenches, only the drainage pipes can be cleaned. However fine dirt particles enter through the slits of the pipes and then gradually settle down to the bottom and on the walls of the trenches. In time they lose their efficiency and finally must be dug out when they lose their infiltration capacity.
The clever design of the DRAINMAX system enables easy cleaning and maintenance. The walls and bottom of the DRAINMAX tunnel infiltration trench can be completely flushed using the special connecting slots. Therefore, a constant level of efficient infiltration is guaranteed long term.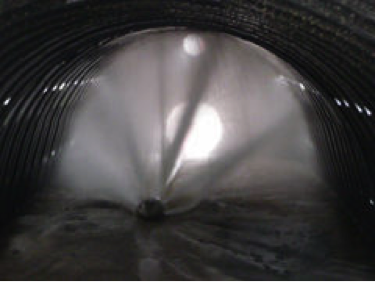 Long life durability
The long-term load capacity for the DRAINMAX system was verified for a minimum service life of 50 years. To ensure longest life, DRAINMAX tunnels should be installed with a pre-cleaning interval sedimentation and filtration shaft. This will prevent dirt particles from entering the tunnel.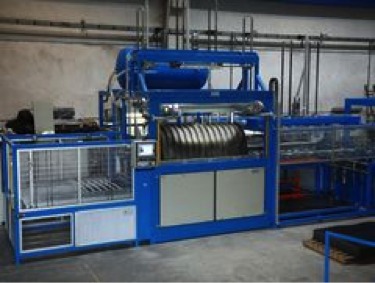 Latest manufacturing techniques
The DRAINMAX tunnel infiltration trench is produced by one of the largest and most advanced thermoforming machines in Europe. In addition to consistent quality, this also guarantees the lowest possible manufacturing costs and thereby a cheap m³ price for the entire infiltration or attenuation system. The tunnel geometry is of rigid construction made of recycled HDPE plastic.