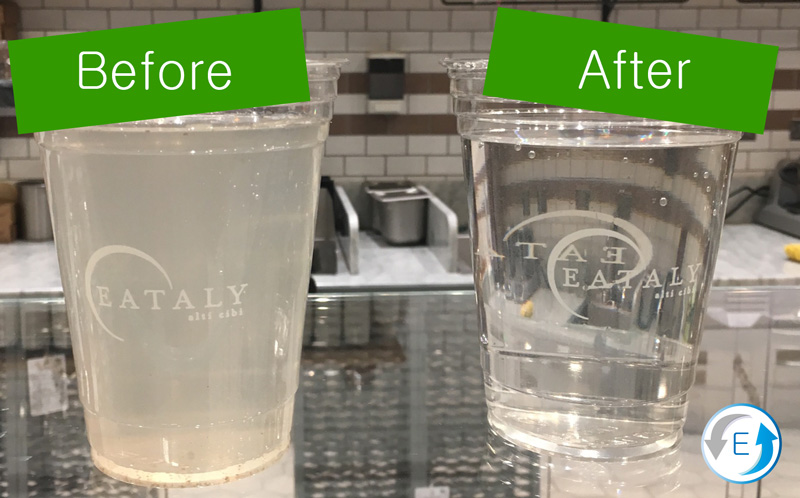 Eataly Restaurant L.A uses Aqualoop to meet 33% of the restaurant's toilet flushing water demand.
Aqualoop
grey water recycling
The only greywater system tested and certified by NSF international to the NSF 350C standard for commercial and residential applications.
AQUALOOP processes water from virtually any source, but it shines in its application with greywater recycling for non-potable uses. Its patented MB-MBR ultra-filter removes 99.9999% bacteria (6 Log) and 99.77% viruses (3 Log), providing excellent water quality.
Greywater from showers, laundry, and bathroom sinks
Rainwater from any rooftop
Other surface waters – lakes, rivers, ponds
Primary wastewater plant discharge.
The system can be scaled to any capacity and the components can be assembled as required or delivered in a packaged solution, offering flexibility to ensure the best results in every situation.
AQUALOOP can be scaled to any capacity from a large 20,000 gallon per day commercial or industrial application down to a 50 gallon per day single family residential system.
AQUALOOP Technology
The Aqualoop greywater treatment technology is a moving bed-membrane bioreactor MB-MBR which sounds very high tech and complicated. Let's break it down. It is not that complicated.
AQUALOOP
Grey Water Recycling System
Benefits Include
NSF 350 Certified for grey water recycling
Rainwater and surface water treatment for potable water use
Scalable to any size
Low maintenance
Technical PDF Downloads
Certifications Reports
Drawings
Installation and User Manual
Planning Sheet
Product Brochure
Product Specifications CUT sheets
Product Article Numbers
Aqualoop single membrane station: 230006
Standard membrane station: 230005
Cartridges: 230010
Growth media: 230025
Purain pre-filter: 210175
Certified NSF 350C treating bath and laundry greywater.

Great water quality for non-potable use: toilet flushing, spray irrigation and cooling towers.
The lowest possible maintenance: more than 6 months with zero maintenance.
Ability to store treated water for extended periods.
Easier permitting.

Disinfection is achieved through the membrane. NO additional disinfection needed for NSF 350C water quality.

No bag filter changes.
No toxic chlorine and associated chemical handling.
No UV bulb changes.

Simple rainwater and surface water treatment for potable water
applications.
Patented, low maintenance membrane cartridge technology with 0.02 micron ultra-filtration.
Design is flexible for any capacity and any style tank with easy customization and standardized packages.
Aqualoop Accessories
Pressure Sensor

With temperature compensated stainless steel probe
For monitoring suction and back-flushing pump
For direct connection to the membrane station.

Sludge Pump

Includes floating switch
Suitable as charging pump
Includes 10 m connection cable