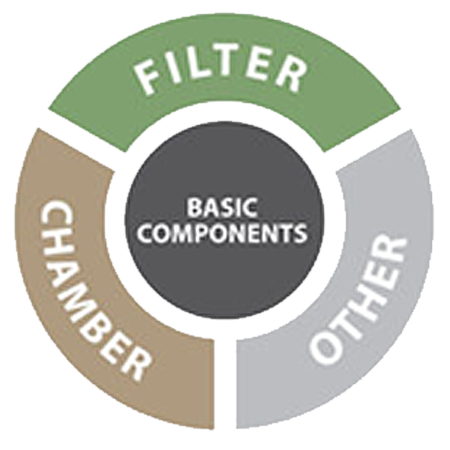 "Large collection volume and easy installation, outdoor or underground"
Efficient and long-lasting modular system for residential water collection, easy to install and to use.
Numerous filter and chamber solutions for your water and building projects, using few components with no need of special tools.
Rainwater harvesting
Water treatment
Rainwater infiltration
Rainwater attenuation
Irrigation Garden ponds
Drainage
Pools
Construction
TECHNOLOGY
PLURAFIT components are distinguished by reasonable price and high product quality. Only high-quality plastic and stainless-steel materials are used, to guarantee a long operation.
Load capacity
PLURAFIT components are very robust due to wall thickness, selected materials, ribbing and construction. They can be installed underground and, when covered with appropriate lid, can be driven safely over by a car.
UV stabilization
PLURAFIT components are suitable for outdoor use thanks to UV stabilization.
Modular concept
You can arrange the components yourself as you wish. Simply use our online Technical library which contains various pre-configured product varieties.